"Till sin be bitter, Christ will not be sweet." – Thomas Watson
This past week during one of our Bible Studies with a Japanese family the father commented, "Ten days ago I realized I am a not a good person inside."  Isn't this the truth, not just for this man but for all of us?  I praise God for revealing to my friend his need.  It is only when we understand our sin more that, as Watson said, we will be evermore grateful to Christ for his death and resurrection. This has been a constant theme we have studied throughout the past month in all our Bible Studies whether it be 1 Peter, 1 John or the marriage study.  Pray for all of us as Christians to truly believe Christ has conquered sin and he gives us power over sin even in this broken world!
Relief Work Update
Our team will be leading a trip up to northern Japan the week of June 20-24.  (Unfortunately this is the week before my language school break and I will be unable to go along.) The amazing aspect of this trip is the group was invited as Christians to come into the public schools to speak and do crafts with the children.  In Japan this was shocking to our veteran team leaders (20+ years in Japan) and an amazing opening by God.  Please pray for wisdom as the group prepares for this trip. Pray for this to not only continue to be an avenue for evangelism amongst those suffering in northern Japan but to also be a way for other Japanese Christians to display Christ's love to others through acts of mercy ministry.  We are seeing first hand many hearts softened to the Gospel and God using this horrific event to strengthen and mobilize his church.  Reaching out has been a great weakness in Japanese churches and praise God for growing his Church in this area!
Study, Study, Study
This past month has been an intense time of language study. Thankfully Cathalain and I are both growing in our language abilities.  In three weeks I will be taking my last round of exams for this session.  In July I will start the 102 class and we have decided for Cathalain to start full-time in the 101 class.  Pray for Cathalain as this will be quite an adjustment.  She has really enjoyed the opportunity to stay home with Tobin and be part of day time activities at our church. With both of us in school, Tobin will have to be put in a day time program for 5-6 hours and this is a struggle for us.  Ultimately after much prayer and discussion with many people we feel our first priority must be learning the language and in the long run this will be best not only for ministry, but most importantly for our family.  This time as been allotted and we won't have this opportunity again.  Please pray the transition will be smooth and for us to continue to learn the language thoroughly and quickly.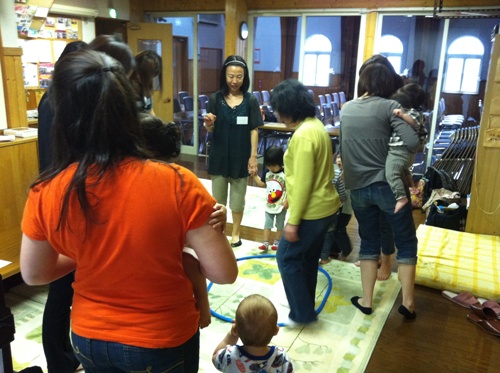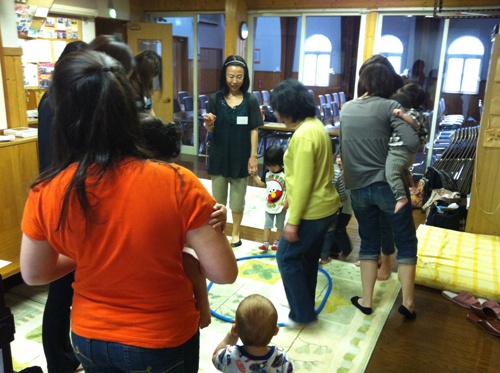 Once a month there is a kid's club at the Japanese church we attend. This is challenging in few people actually speak/understand English but has been a great time for Cathalain and Tobin to join in the church ministry and fellowship. (Also a great time to practice Japanese!)
Pray to and Praise God
Thank you for your faithful prayers!  We want to urge you to keep praying for Japan.  God has answered MANY prayers and many of those are specific requests you have prayed for faithfully over the years. (Requests are below.)  Please be encouraged by God's work and know your partnership is truly eternal!
June Prayer Requests
Pray for the two week break we have between language school sessions. (June 26-July 8)  Pray God would use us in this time to best fill in gaps in our team whether it be small tasks or going up north to assist short-term teams with relief work. Pray also God would give us quality family time to spend together.
Pray for the three studies we are currently leading.  (Wednesday – Family Study, Thursday – Singles Study, Saturday – Marriage Study)  Pray for the non-Christians to come to Christ and Christians to grow in grace.
Pray for God to raise up a Japanese national pastor to work with upon language school graduation.  Pray for wisdom in where God desires for us to plant a church.  The need is great everywhere so pray this decision would be clear!