The Adjustment
We both were anxious about living in NY City for a month with a 6 week old.  At first Cathalain was quite overwhelmed with how physically exhausting each day was and learning how to buy affordable groceries.  We did not expect 103 degree weather in NY!!!  As the week has come to an end we have both been able to settle, create a routine, learn the transportation system, and even cooked meals at home for most the week!  Praise God for a quick transition time and the ability to feel settled in the city.
The Community
One blessing out of all MTW trainings is to spend time with other missionaries preparing to leave for the field.  There is a special bond as we all are experiencing similar emotions and living transitional lifestyles. There are 12 missionary families, 10 interns, 3 staff families, and 4 mentor families.  Praise God for calling more people to serve internationally!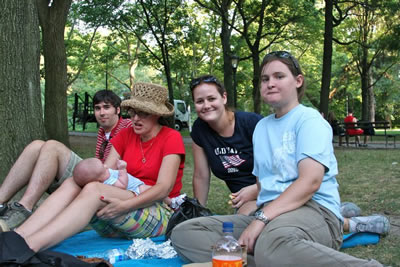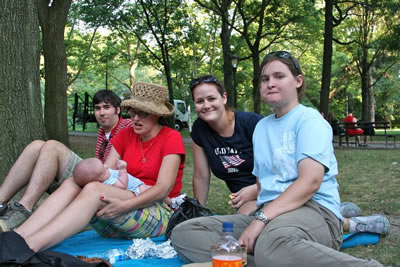 In the Classroom
Every afternoon we spend about 3 1/2 hours in a classroom setting.  The topics this week included team dynamics, evangelism, contextualization, and aspects of culture.  All these sessions are meant to enhance our understanding of how to love and serve better as we head to Nagoya.  Thus far both of us have been challenged in our thinking which has opened us up to ask questions about our own hearts.  Please pray we would take time to synthesize all the sessions so we truly do apply the principles we are learning.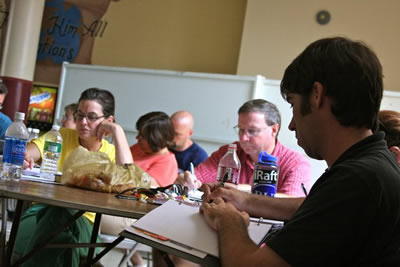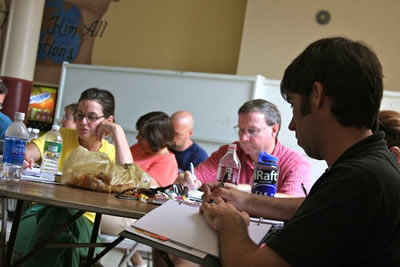 Our Assignment
Another part of the training is to serve within a local church.  We have been assigned to Astoria Community Church. Our role has been to plan and implement a one week intensive ESL program.  This week we worked with our team members to publicize the class and plan the curriculum.  Next week we will be implementing the class.  We have no idea who will show up on Monday so please pray.  Pray we would effectively teach the students, represent the Church well, and for the students to be open to the Gospel.
Behind the Scenes
Each missionary is assigned to a committee, after all we are Presbyterians.  Michael is on the administrative committee and Cathalain has been assigned to the newsletter committee.  (Tobin was not assigned…his focus is enjoying life.)  Please check out the first newsletter sent to all the participants for a more in depth recap of the week.
Please continue to pray for us as a family as we continue our time in New York City.  This is a very beneficial and very intense month!
*CCMI – Cross Cultural Ministry Internship