In our last update, we told you about our busy schedule for the summer and asked you to pray for our travels, support-raising and speaking. We made it through the summer and the Lord has certainly answered many of our prayers.
NC and GA
We began the summer in Asheville, North Carolina at a Living in Grace Conference. This was part of our missionary training with Mission to the World. This was a great way to start off the summer because the conference was a full week to be reminded of God's grace and love. It was certainly a blessing for me and Cathalain to be a part of it. We stayed a few days in Asheville to speak at two church services held at a retirement community there. Not only did we get to speak about our ministry, but I also got to deliver the message to the congregation which was a first for me. We truly enjoyed being there and were glad to have the opportunity to share our ministry with them. We got back home only to turn right back around and head to General Assembly, held in Orlando. I saw some old friends from Japan and we spoke with pastors whom we had met before at various presbytery meetings. I also was able to speak at a presbytery meeting in North Florida. I had not previously met any of the pastors in this presbytery and had no connections with them, but the Lord really blessed my time there. I was able to not only meet many pastors, but talk with some in depth about our ministry and vision for Japan. We will also go back to some of the North Florida churches in the fall to talk to them more about our ministry, so it was a very fruitful time.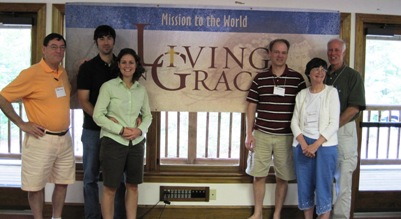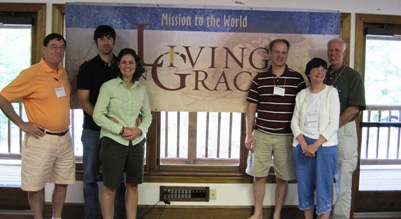 On to Virginia
We finished our summer by spending two weeks in Virginia in July speaking with churches and also taking some time off and relaxing.  We were able to speak at a church outside of Richmond on the first Sunday. The next day, we drove over to Lynchburg and met with the missions committee of a church there and we spoke at a church in Blacksburg on the following Sunday. The church in Blacksburg was particularly enjoyable because a Japanese family from Nagoya, Japan attends that church. The mother and all but the newest child were baptized by our future team leader in Nagoya, Japan, so it was exciting to talk to them about ministry in Japan and discovering mutual friends.
Support Update
This summer we learned that Holy Trinity Presbyterian in Tampa would partner with us in our ministry. We have been blessed by many relationships with members from Holy Trinity and are excited to have them as partners. Our support level is increasing slowly but surely. We are at approximately 40% of our needed budget. We have a long way to go but we are certainly thankful to God for what he has provided and we are faithful that God will provide the rest in his time.
Please Continue Praying
Pray this fall the Lord would open doors at churches and we would continue to build church partnerships.  Pray also as we talk to small groups in Lakeland that people would desire to partner with our ministry.
Pray for our partnerships with churches, for doors to open with additional churches, and churches would be able to add us to their budget.
Pray for the Newsome family, our team leaders, as they returned to Japan last week from a year long home assignment.  Pray for the family adjustment and ministry as it continues to grow in Nagoya.